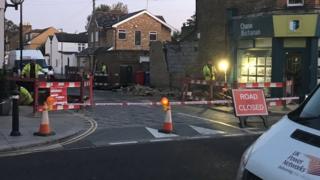 About 30 residents have been evacuated and part of a building has been destroyed following a suspected explosion.
London Fire Brigade (LFB) said it was called to a fire after the suspected blast on High Street in Hampton Hill, south-west London, on Tuesday night.
On social media, people spoke of hearing a "boom" and a wall being "obliterated". No-one was injured.
Road closures remain in place at the scene, Richmond Council said.
Workers at the site believe a "fault in a nearby electricity box" sparked an explosion. LFB has not confirmed the cause.
Local resident Victoria Rowland-Moore said it felt like a "sonic boom".
"It blew up the pavement from underneath, causing an extension on the local estate agent's building to fall down," she said.